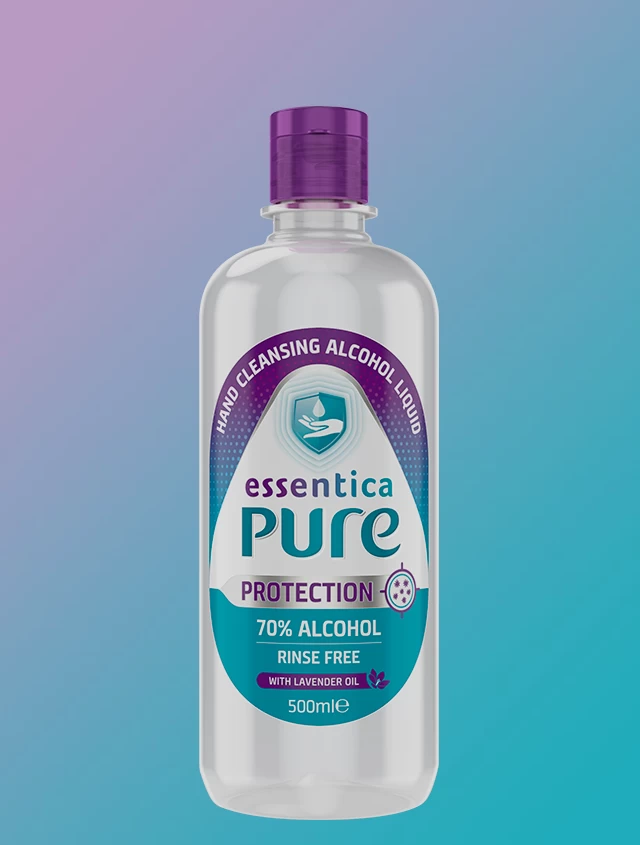 Essentica Pure
The active substance of all Еssentica Pure products is ethyl alcohol in a concentration that has been proven to protect the health by taking care of people's hygiene.
The ethanol we use is INTERNATIONALLY CERTIFIED AS A BIOCIDAL PRODUCT BY THE EUROPEAN CHEMICALS AGENCY (ECHA) ACCORDING TO ART. 95 OF THE BIOCIDAL PRODUCTS REGULATION. Its excellent and consistent quality is ensured by a continuous control at each step of the closed production cycle. It is produced from the finest Bulgarian grain sourced from own agricultural lands.
Many producers from all over the world rely on the uncompromising quality of Essentica ethanol for their leading brands.
Еssentica Pure is available in two product lines – for personal hygiene and professional use.


---
70% ALCOHOL

Essentica Pure is an antibacterial alcohol-based liquid for hygienic cleaning of hands without water and soap. Laboratory tested.

Essentica Pure is enriched with nice aroma of lavender essential oil known for its refreshing and anti-inflammatory effect. It contains glycerine that protects and smooths the skin. Does not contain colorants to avoid the risk of allergies. Essentica Pure is suitable for everyday use. Its liquid texture allows better application and thus more effective disinfection. Without sticky feeling after use.

Essentica Pure contains ingredients of 100% natural origin.

Active antibacterial substance: Ethanol 63g/100 g (70 ml/100 ml).

How to use: This is a ready-to-use product. Apply sufficient quantity, approximately 3 ml or more, on physically clean and dry hands. Use a rubbing motion. Maintain the skin of the hands moist for the entire exposure time. Without rinsing after use.
Multifunctional use: Essentica Pure is the ideal solution for hand hygiene when you are on the go, at the office or at home.

ON THE GO
When you have to protect your hands but don't have access to water and soap, our packages are the ideal solution. Suitable for your personal protection when you are on the go. With convenient flip-top cap.
Available package: 100 ml, 200 ml

AT HOME/AT THE OFFICE
The family package gives your loved ones secure and effective protection against germs. Also suitable for the office. Can be refilled which makes it the ideal solution for a good hygiene in the workplace. With convenient flip-top cap.

Available package: 500 ml, 1L, 5L

BULK DISINFECTANT: IBC container 1000L; 30 000L cistern.
---
70% ACLOHOL

Essentica Pure is a ready-to-use alcohol-based rapid surface cleaner for small areas (up to 2 sq. m.). Suitable for all types of small alcohol-resistant surfaces, without leaving residue. It dries quickly. Laboratory tested.

The formula of Essentica Pure Professional is the result of the expertise of leading international industry experts.

Essentica Pure contains ingredients of 100% natural origin.

Active antibacterial substance: Ethanol 63g/ 100 g (70 ml/ 100 ml).

How to use: A ready-to-use antibacterial product. Spray the surface at a distance of about 30 cm, until it is completely wet and in 2 minutes you may wipe with a clean cloth.

Essentica Pure Rapid Surface Cleaner is with a wide range of action, multifunctional, fast and effective. It is suitable for use in health establishments, food production and trade sites, cosmetic and pharmaceutical industry, public buildings and at home.

FOR PROFESSIONAL USE:
Our economy pack is effective on various types of surfaces.

Available packages: 5L

BULK DISINFECTANT: IBC container 1000L; 30 000L cistern
---
| | | |
| --- | --- | --- |
| Transport: | Road | Rail |
| | | | | | |
| --- | --- | --- | --- | --- | --- |
| Types of packaging: | Cistern | IBC | Barrel | Tube | Bottle |
---